Bugs

1. Create emtpy db in CN 2.0.2
2. Create 3 notes, tag 2 of them with 'test'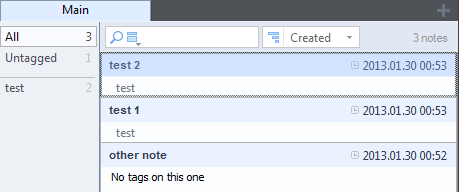 3. Select tag 'test':

4. One by one, delete two visible notes
Result:
Empty notes list and no tags selected:

These are the only steps I know to get into this state "empty filter, no notes shown, no tags slected, but notebook is not empty".
I know two valid states to show empty notes list:
* Not empty filter, string is not found in the db. Then we show "No notes found which match current filter"
* Empty filter, no notes in the notebook.
So this is half-bug/half-question. Is it normal? Is this state valid?